Twitter hypocrisy is on full display, and they aren't even trying to hide it.
After banning the New York Post and others for a factual report on Hunter Biden's not hacked laptop last October – citing their 'doxxing and hacked materials' policy, the social media giant actively promoted a story from The Guardian on Friday which not only doxxes conservative donors to Kyle Rittenhouse and other BLM targets – but was based on hacked materials obtained by a hacking collective that Twitter banned in
As Luke Rosiak of the Daily Wire details, The Guardian story which doxxes several low-level government employees who donated to Rittenhouse and others was based on a "data breach at a Christian crowdfunding website" GiveSendGo – and placed atop Twitter's "trending" section, which is manually curated by site employees.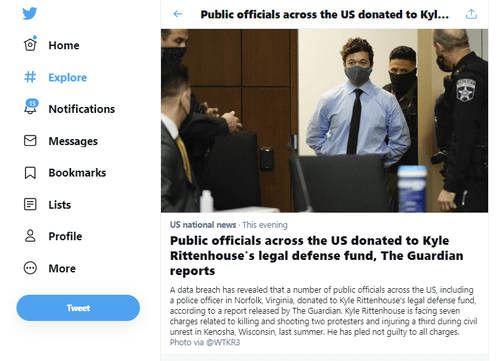 Aside from Rittenhouse, the Guardian named several rank-and-file Wisconsin police officers who donated small amounts to the defense of fellow Wisconsin officer Rusten Sheskey – who shot knife-wielding suspect Jacob Blake.
Two $20 donations to Sheskey's fund were associated with email addresses of a pair of lieutenants in Green Bay, Wisconsin's police department. One, given under the name, "GBPD Officer", was tied to an address associated with [name redacted by The Daily Wire], a training lieutenant in the department; another anonymous donation was associated with [name redacted by The Daily Wire], who is listed as a school resources officer lieutenant. -The Guardian via the Daily Wire
As Rosiak notes, it's unclear what is objectionable about donating to Sheskey – who was cleared of wrongdoing by the district attorney, and found to have been "acting within policy" by an internal review.
"When we started GiveSendGo, we let people give anonymously because people had such a big heart they didn't want credit. Now where we're at in this country, they have to give anonymously because we've seen what happens when their name gets out there. It makes me sick to my stomach… The point of this was to weaponize this information against the individuals who gave. There's no other value other than to make them fearful," said Jacob Wells, founder of GiveSendGo.
More via the Daily Wire:
Not only is there no evident news value to publishing the names of private individuals who lawfully and anonymously donated modest amounts to support their colleagues' right to a fair hearing – at a time when riots against police have flared and the publication of names seemingly makes them targets – but it's not even clear that all the people doxxed by the Guardian actually gave. One man, by the Guardian's account, would have had to misspell his own name for that to be true. The only non-public material breached was the email address of anonymous donors; their name was still not present.

Twitter is aware of DDOS' modus operandi. In June 2020, it banned DDOS' Twitter account and blocked all links to its hacked data.
Now recall how in October, Twitter banned the New York Post for a factual story on Hunter Biden's laptop – which was based on materials which were not hacked. Anyone who shared the Post bombshell was quickly blocked or suspended. Eventually, Twitter CEO Jack Dorsey admitted that censoring the Post story was a "total mistake."
Rosiak points out that "If Twitter's position is that the Guardian publishing the names and financial activity of ordinary citizens who gave anonymously does not constitute "personal and private information," it appears to amount to a remarkable double-standard in high-profile stories relating to Black Lives Matter within the span of days."
Read the rest of the report here.
Republished from ZeroHedge.com with permission